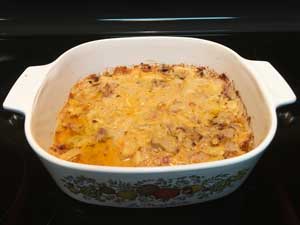 Ingredients:
1 bag frozen yellow squash (or equivalent of fresh squash)


4-6 slices of bacon


1 medium onion


1/2 cup almond flour


1/2 cup heavy whipping cream


16 oz grated sharp cheddar cheese


1/4 cup mayonnaise


salt, pepper, garlic powder to taste
Instructions:
Preheat oven to 350 F.


Chop bacon into small pieces and begin frying on low heat.


Chop onion and add to bacon in pan. Add salt, pepper, and garlic as desired.


Microwave squash in a casserole dish for 4 minutes, add salt and pepper, stir, microwave for 4 more minutes or until desired softness.


Continue cooking bacon and onion mixture until bacon is done and onions are soft.


Drain squash of excess liquid, then slice into small pieces (keeping it in the casserole dish).


Add almond flour, mayonnaise, and heavy whipping cream to squash and stir well.


Add about 12 oz. of the cheddar to squash mixture (saving some for topping) and stir well.


Add bacon and onions to squash mixture and combine evenly.


Bake covered at 350 F for 30 minutes.


Uncover and top with remaining cheese.


Bake for 10 more minutes or until cheese is slightly browned.