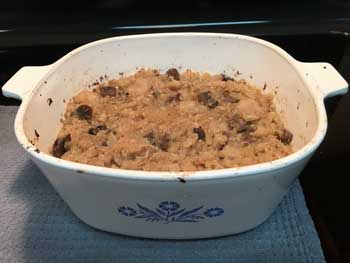 Ingredients
2 lbs. of frozen cauliflower


1 can of beef broth


1 can of water chestnuts


1 jar of sliced mushrooms


1 large onion


1 stick of butter


Salt and pepper
Instructions:
Preheat oven to 350 F.


Place cauliflower in a microwaveable casserole dish and microwave until slightly soft (about 4 minutes, remove and stir, 4 more minutes). Salt generously and stir well.


Chop onion and saute' in a little butter until soft.


While onion is cooking, place cauliflower pieces in a food processor and process until rice-like. (NOTE: Alternatively, you can purchase the already prepared "riced cauliflower" and use that instead!)



Mix all ingredients except butter into casserole dish. Add butter cut into 1/4ths on top.



Bake covered at 350 F for 30 minutes. Remove from over and stir to mix the butter into casserole.


Bake uncovered for 30 more minutes.


Remove from oven and let sit about 10 minutes. Enjoy!